SASCHA PILTZ
Creative Director
TD Ameritrade
All Night Long Trading - Super Bowl LII

We launched 24/5 trading, a breakthrough product which allows traders to keep trading after the market closes. In fact, they can now trade all night long. So we enlisted the most qualified nocturnal authority to deliver the big news.
The first spot features Mr. Richie creating magic on the piano. The second spot ran during Super Bowl LII, and features Lionel with the TDA Green Room guy and the real CTO of TD Ameritrade.
Weeks later, Lionel appeared to be playing a Grand Piano, but instead viewers found him to be trading on a computer placed on top of the keys.
JBL by harman
Request Timeline

To launch the JBL Link speaker with Google Assistant, we tapped into JBL's rich history of smart sound - plus the human truth that people have been been requesting music with voice commands for decades. This campaign launched the Link across the globe.

For the campaign we licensed two existing tracks - Salt n' Peppa's "Shoop" and DJ Kaskade's "Fun." But for the Woodstock and studio scene, we created original tracks that convinced viewers these songs always existed as well.
Airwick VIP
Very Important Poopers
V.I.P. is not for your average pooper. It goes above and beyond to trap odors in the bowl. So we created a campaign that celebrates Very Important Poopers who use V.I.P. to elevate their number two game. A campaign which embraces comedy just as much as it does the classic Reckitt Benckiser product demonstration.
To support the TV campaign for Very Important Poopers we created the Very Important Podcast. Recorded in a real public bathroom with real people, host Dru Johnson interviews experts about how not to stink at things like dating, self defense, and even balloon animals. The Very Important Podcast recently dropped on iTunes, Spotify, and YouTube.
Volkswagen
Soccer Fatigue Sensor

To promote VW's Fatigue Sensor, we used Brazil's most popular sport: soccer. Whenever a player was worn-out and ready to rest, the fatigue sensor icon would appear over the player, indicating that he was too tired to continue playing. In addition, as the icon followed a player across the field, the live TV game commentator would call out that the player was tired and ready to be benched. This stunt aired in Brazil during the British FA Cup and Italian Serie A League games.
In Brazil, it's illegal to show people drinking beer in television commercials. We used the law in our favor to create a fun, unique brand relaunch campaign for Antartica beer that left consumers thirsty for more.
The main character from our campaign urged viewers to skip the pre-roll ad as fast as possible, because he couldn't drink a beer until someone skipped it and he was out of sight.
Casa do Zezinho
Goal for Education

Casa do Zezinho is a NGO located in Capão redondo, one of São Paulo's poorest neighborhoods. It helps more than 5.000 children have access to education. A year before the Soccer World Cup we developed this project with São Paulo's biggest soccer team and used their jerseys to get people's attention to education. Player numbers on the back of the jerseys were switched for mathematic equations that equaled their original numbers. The players used them during one of the biggest football derby's in Brazil: São Paulo x Corinthians. At the end of the game all jerseys where auctioned on the Internet and all the money donated to Casa do Zezinho.
Volkswagen
Tiguan Not Found
The VW Tiguan should be out there off-roading in the wild, not stuck on a webpage. So we made the car disappear from VW's official website. When people tried to click on the car on the site's menu or search for it, a "Not Found" landing page appeared. From there, users could launch a Pinterest page where they could see pictures of the car enjoying its life on the outside. In addition, on Facebook, the Tiguan was nowhere to be found, leaving VW fans with fun, tongue and cheek messaging. The idea generated tons of buzz in Brazil. So much so, VW decided to use the stunt in many other markets across the globe.
billboard
On Hold Jam Session

Billboard magazine was in need of a new on hold music and briefed us to develop something fresh, showing the magazine's concept of music and entertainment. What came out was an engaging way of letting people who wait on hold play their favorite rock riffs, by pressing the telephone buttons.
Print campaigns
Visa, Audi, Volkswagen, TOP Magazine
At the FIFA World Cup in Brazil, over 1 million visitors from 202 countries came to experience the games. But the problem was, they weren't necessarily feeling welcome by the locals who spent weeks prior to the games protesting the event's funding. So as one of the World Cup's biggest sponsors, Visa used it's brand positioning to let visitors know that 'everyone is welcome.'
Print campaign for Top Destinos, a Brazilian luxury travel magazine, showing that nothing is more memorable than a bad experience.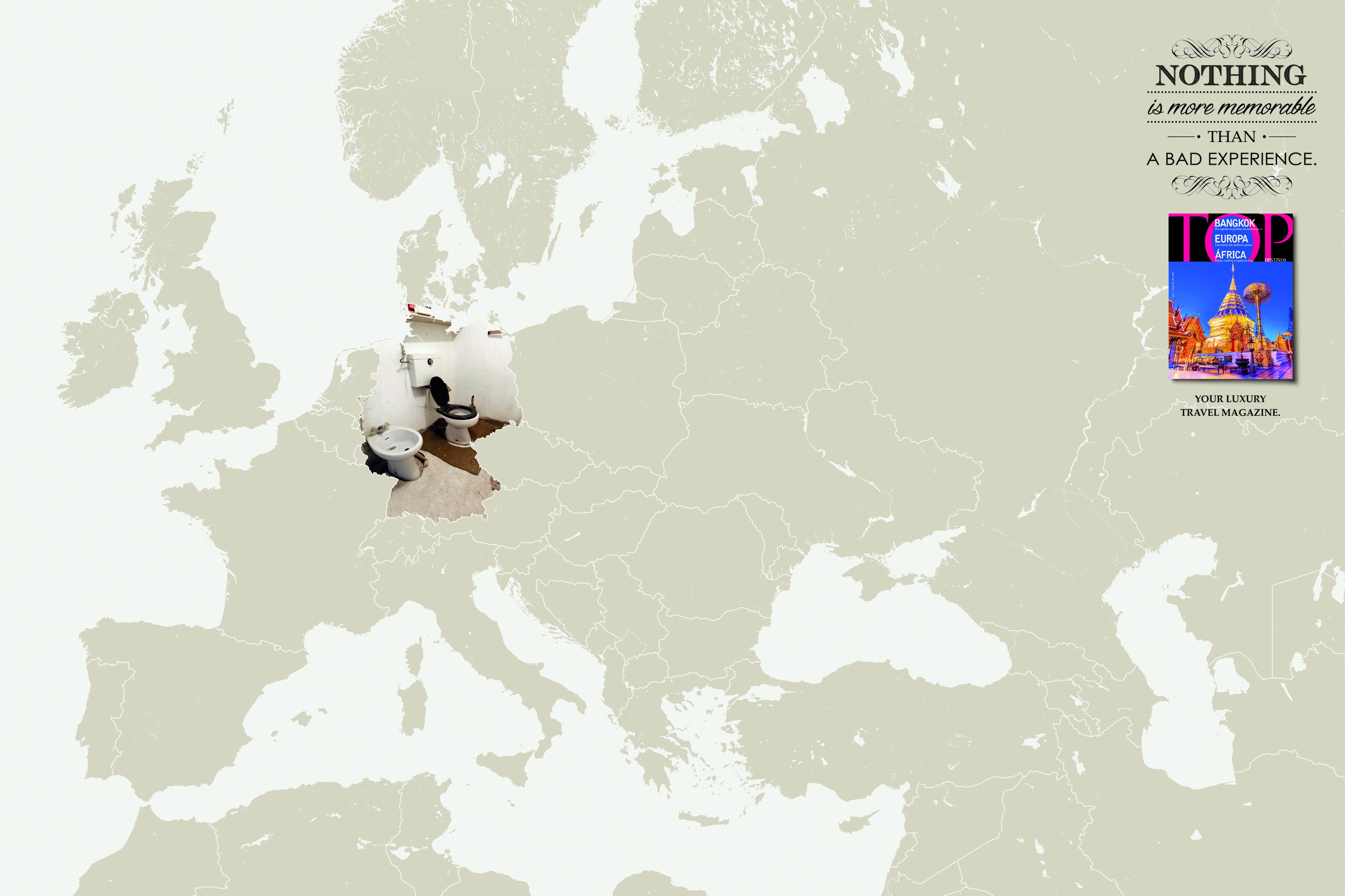 Volkswagen Trucks are available in many different forms being taylor made for every kind of business, from small to big. 
Print campaign for the Audi A6 allroad with TFSI engine. An off-road car that drives more miles per gallon than any other off-road.
There's an easy way to enjoy French food with Dr.Oetker. To demonstrate how easy frozen Bistro Baguettes are to prepare, we created a campaign where everything French was made simple – even French pronunciation.